You know you are in for a treat when Indian ethnic wear has fusion stories woven in the garments. The marriage of the  Old and the New , Contemporary and Traditional  make a beautiful amalgamation of styles.   I love to give my little twist when I style the way I wear anything and Fusion just makes it all the more fun to have fun dressing up. Perks of being a blogger was is that I got to see and wear their Fusion line first straight from their workshops even before it hit there stores I Played dress up in my top 3 picks from Kalki Fashions, the brand known for ethnic wear when they launched their brand new fusion line.
Here goes my picks of  top three garments which we put it all together in a fun shoot for you all. Let us decode the looks one by one…
The quintessential dhoti is no more just the comfort wear in villages of India but in its modern avatar the Dhoti Pants. You would see dhoti pants in all three looks but still each dhoti pant different from the other in terms of drape and fall. All styled and paired with different tops and a whole new different garments.
#StyleTip : Best thing with Fusion is you could mix and match with other basics that you have and make a whole new look work for yourself.
Look 1
Think orange and gold, sleeveless Jacket  to be worn as as a top and Dhoti pants and I was in love with the outfit. Well me being me a dash of quirk is most expected . I paid them with my boots, put on a bold red lipstick and woao I loved how it all it all turned out. What do you think.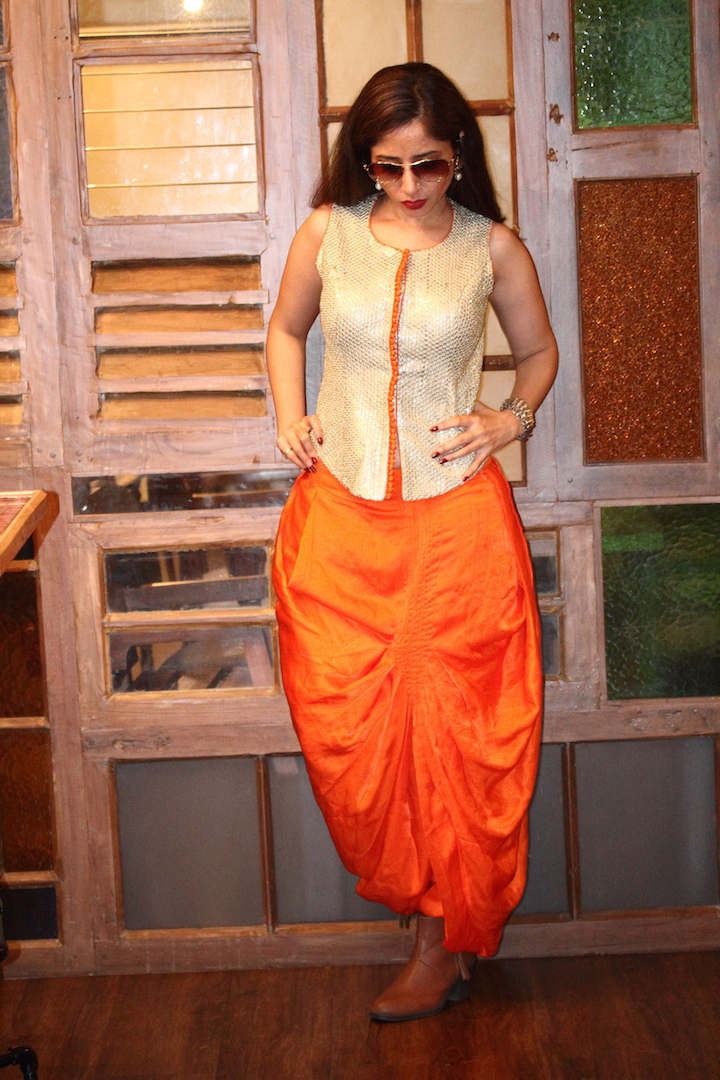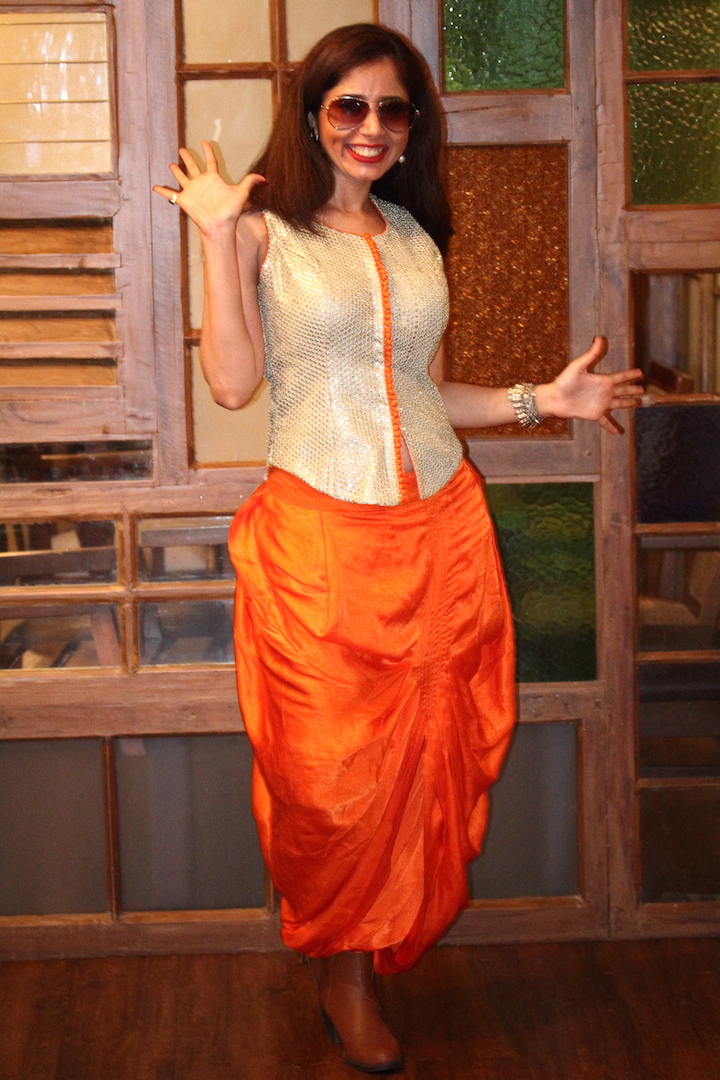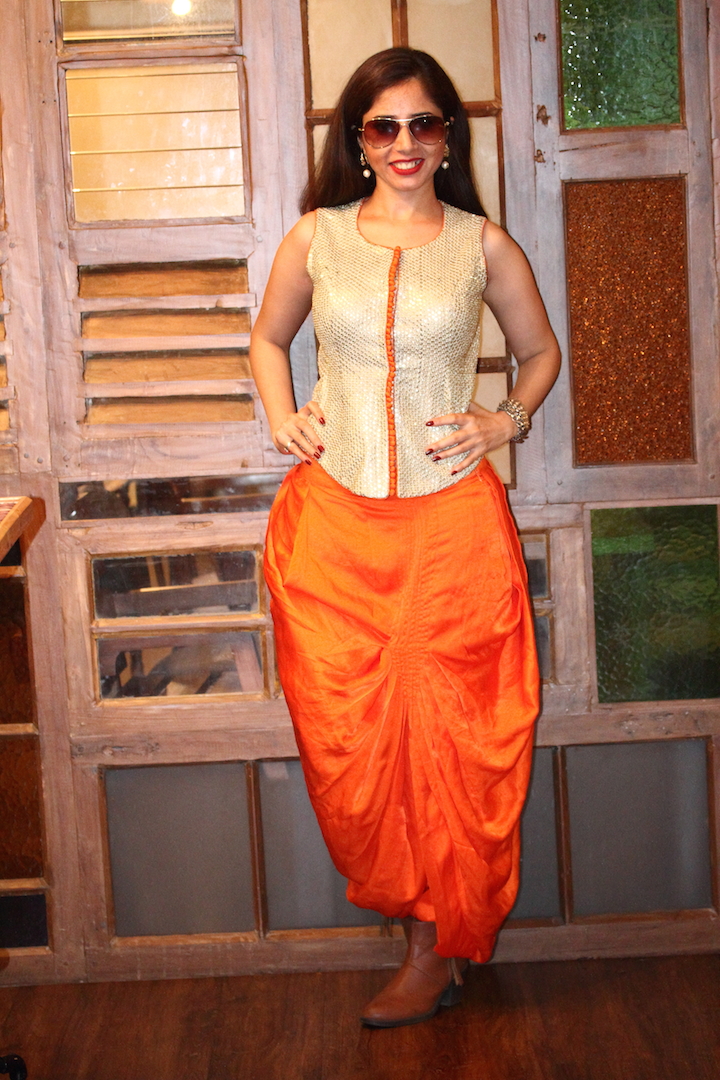 #StyleTip : You could pair the same dhotis with a pair of ganjis and it would be so much more wearable for lesser formal occasions.
Look 2
Bandhej, uneven hemline, zip details and haremish dhoti pants plus the gold colour of pants and a very fuchsia top , there nothing to not love about this outfit. The footwear too are dressy velvet wedges with zardozi from Kalki and I felt like cindrella in shiny velvety sandals. My funky reflectors made added my dash of fun factor.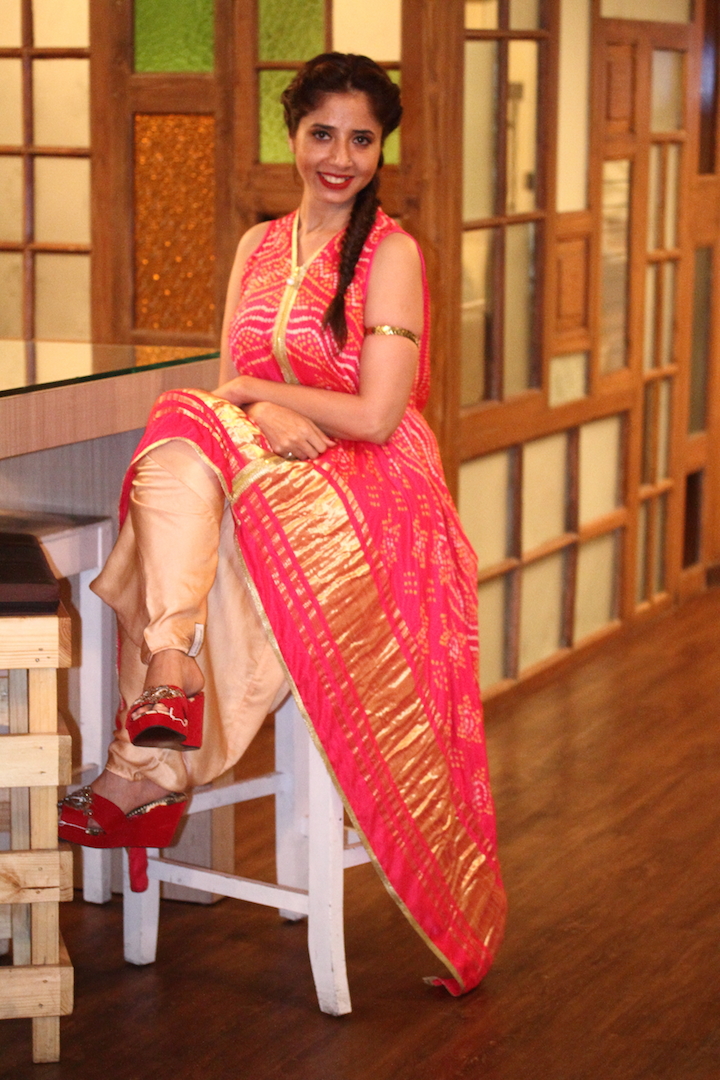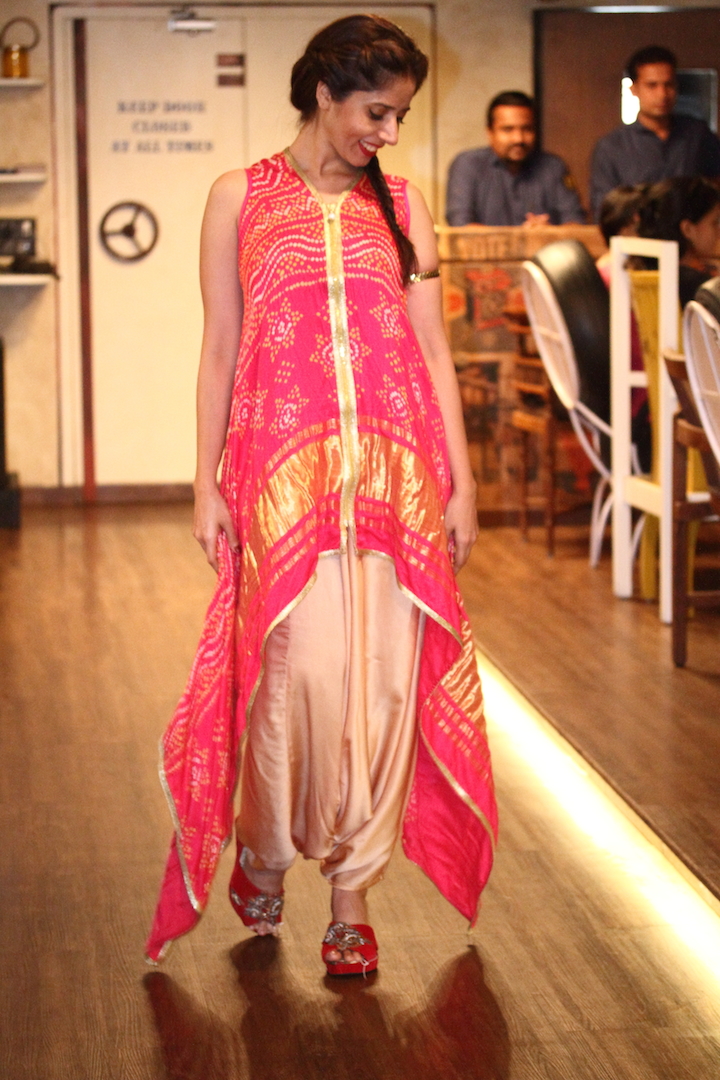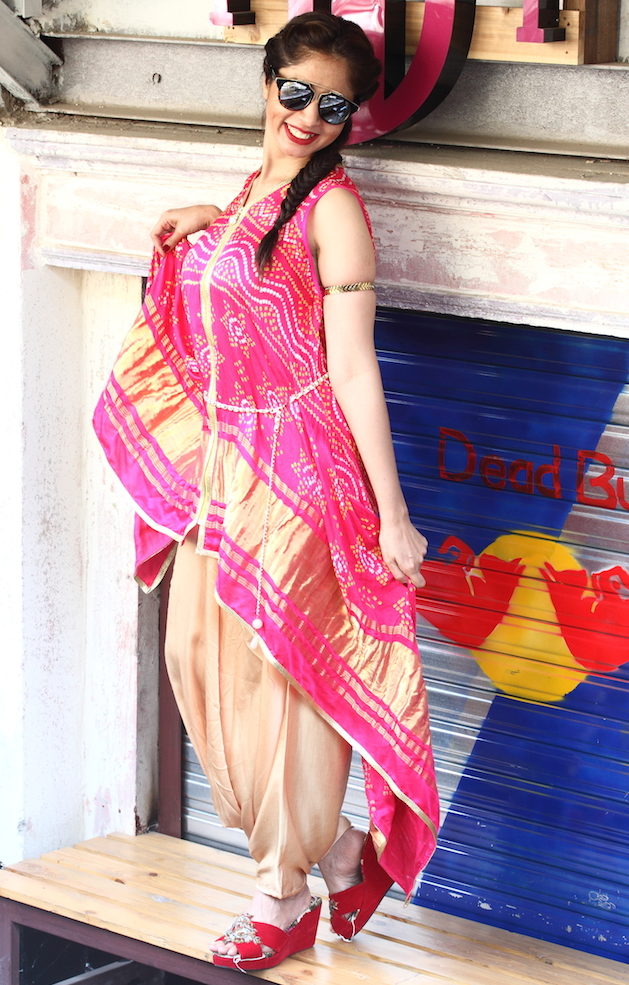 #StyleTip : How about wearing the top over a pair of distressed denims , it would be such a cool outfit that you could wear to many many places.
Look 3
If you had to go for a summer wedding this should be it. The white silk dhoti pants and a lovely pastel shade of Green jacket it was a gorgeous gorgeous outfit loved the pleat and high low detailing. Wore a necklace as a headband and Who would think of wearing brogues with this outfit……me me me….what do you think…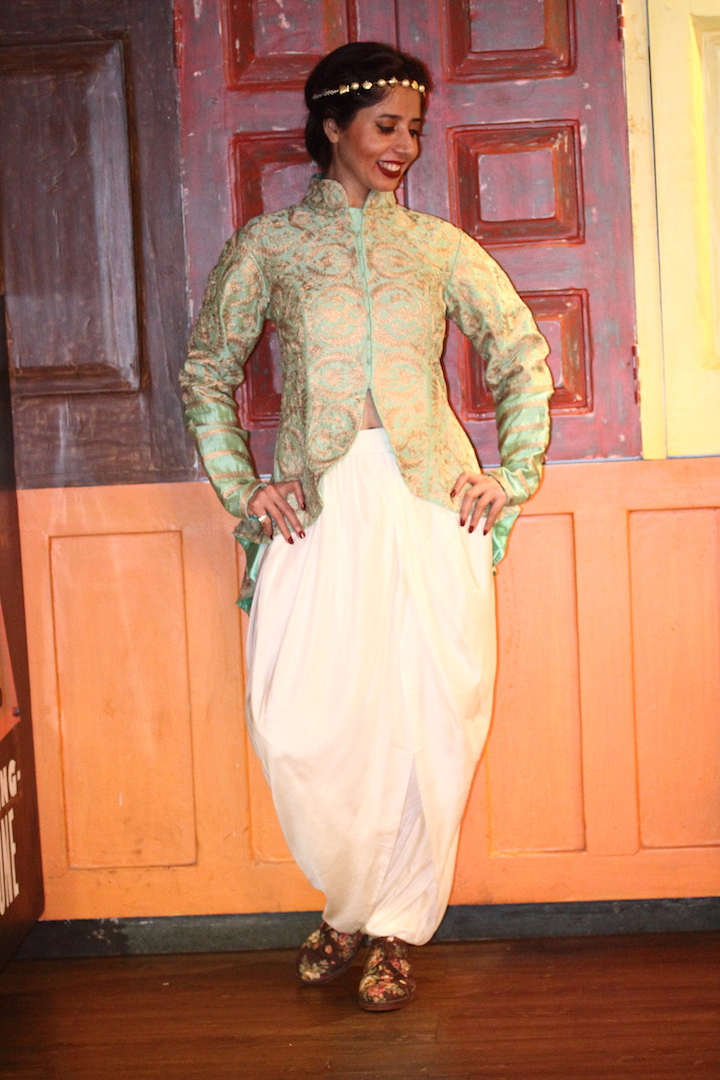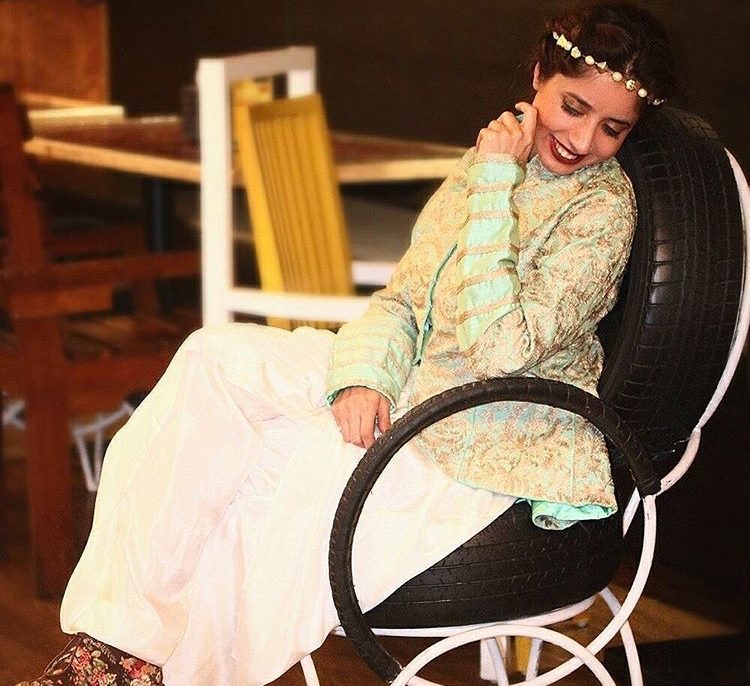 #StyleTip : Have fun with your lipsticks when wearing lighter colours, they shine all the more…
So what did you think of my top 3 fusion picks rom Kalki Fashions .
Meanwhile if you have style query you know you could write to me at stylecoachaianaj@gmail.com