Joggers have never been so fashionable like now… earlier Joggers were something you chill , jog or laze in. they were quintessential PJ's to lounge on sundays never ever would have anyone imagined them as a must have fashion garment of any fashion season at all….right!!!
Come Joggers 2.0, well nothing new about their avatar just that the lazy/ active pair of your Joggers are now rechristened as sporty chic. Well yeah Chic and sports wear go hand in hand now. Its is comfort fashion at its best. I love these times and that my fashion quirks are deemed normal…wowie….
I had to bully a friend to click my pictures on a random day when I was wearing My sporty Chic, of which I am so doing a series of how all can it be paired and worn…So I pulled my friend Preeti out of her lazy zone and made madam click yours truly, after all the blogger needs to have all the "LOOKS" photo documented …hahahahah … I love my job….just love love….
I get to put my love for writing and fashion to use together , by the way I am so writing a book sometime soon….not sure if it would be about fashion but I am so doing it taking it off my bucket list……
Oh yeah I was telling you about what I wore that was sporty chic…. I picked this Cropped top off on one of my street side shopping  outings, I just love the flowers and the prints and all…love the colour…I wear it a lot…and my joggers …..they to me looked lovely together…a perfect matching mis-match…My love for my white shoes is never ending….its a love story that I know would go on for a while…I totally have big crush on them and they go with me practically everywhere….literally…yeah….wow….I love my humour….and I know I am definitely not being modest here…..hahahahaahaaaaa….
..still grinning through the new paragraph… I loved the casual vibe to my look…I could go shopping, or coffee with friends dressed like this….while I chose to go bully my friend to click my pictures….well that's me…hahahahhahaha….still funny right…Oh God I should totally write a humorous book….
I definitely didn't look nerdy here…My yellow reflectors just added the cool quotient and my day was made a couple of compliments later and being told that they were ordering exact same Joggers….and trying the look on….I sure love my job….
PS: All the details of the outfit are mentioned below.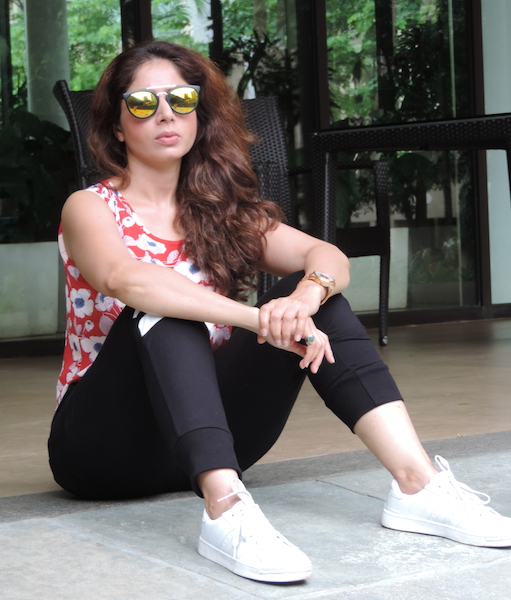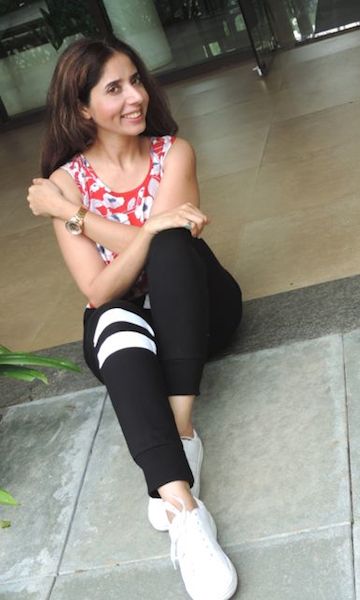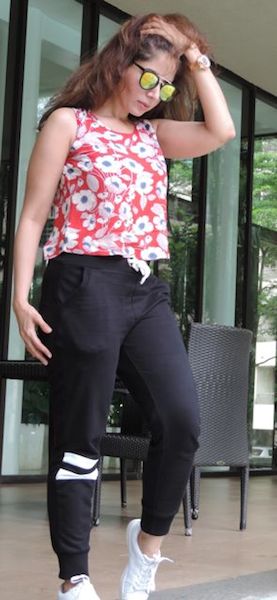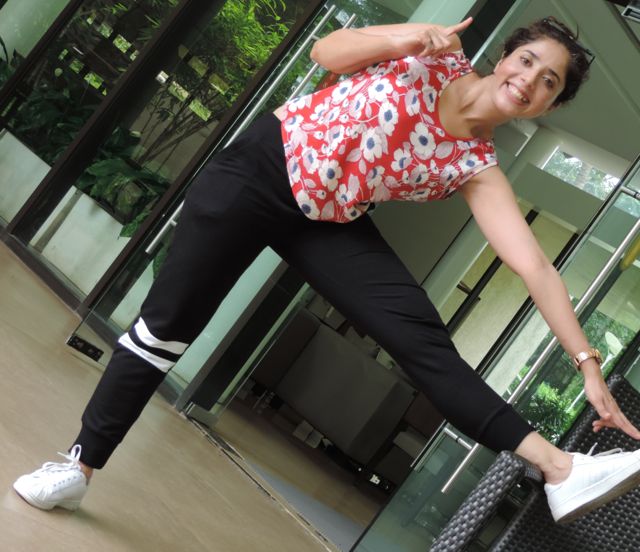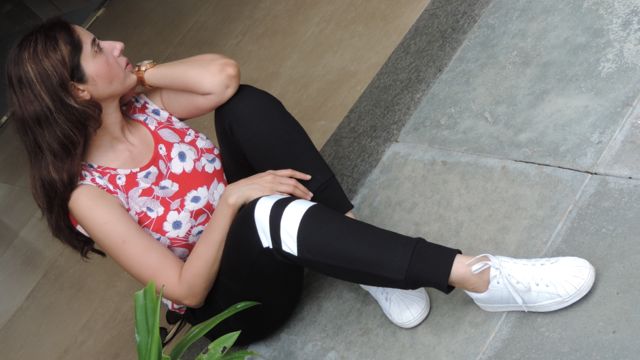 Hair Colour: Lo'real MOCHA
Reflectors: Aldo Accessories
Watch: Chaps Watches
Crop Top: Thrifted
Joggers: Bewakoof.com
Shoes : Adidas Originals Superstar