Ahhhaaaa…Rains….the smell of the earth when it rains for the first time, the feeling… the pitter patter of the first drops….. to the sheer desperation ahhhhhhh…. for it stop raining and for the Sun God to show up for once….. just once….the rainy season brings in plethora of emotions with it…with rains it is taken that there shall be plenty of  house parties with friends over , some piping hot drinks, yummy fried snacks (pakoras…samosas…) and  plenty of good conversations ….
What showers  also bring in  is an excuse to have fun with fashion… I picked my top 5 Fashion Essentials for during the rainy season……here we go…
1. First things first, with rains come the wavy in the hair that I sort of love…. the way my hair have these natural beach waves during this time of year…..which makes managing them effortless , all you need is a good serum (Moroccan Oil is my favourite to keep the flyways in place)… just take care not to be generous with conditioners as they tend to limp your hair in this weather…. tie half hair up, and add a Fun Accessory and you are good to go…
2. Gone are the days when the black Grandpa Umbrellas were the only option you had….. make a fashion statement in this season with a Fancy Umbrella, choose from a wide array of options available right from Plain See Through ones to Fancy Prints to Bold Solid Colours, take your pick and Announce Your Mood to the world simply with your choice of Ummmbrelllaaa…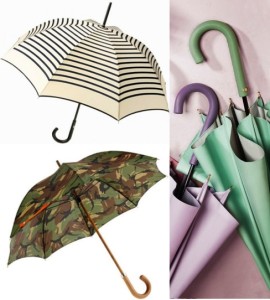 3. How could Bags be left out, give your regular leather bags a break and have fun with Bright Hued or look through Purse, a Bagpack or a  Clutch or  get a bag in a Shiny Patent Leather have fun with Colours just make sure you get a Good Quality Rainproof kinds that can keep your stuff in safe from getting wet…. make Funky the new Cool….all in the name of Rains….!!!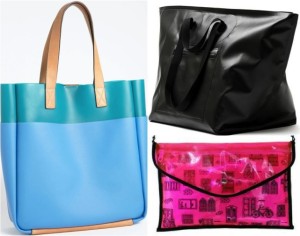 4. Always dress in Ankle Upwards Length due to obvious reasons , wear Breathable Fabrics and the kinds that Dry Fast like Pure Cottons, Mul, Nylon, Silk and Cotton Blends …. Denim and Crepe Silk can resist the water splash….. and the Makeup should be Water Proof, you wouldn't want your eyes running of kohl in case if you get wet…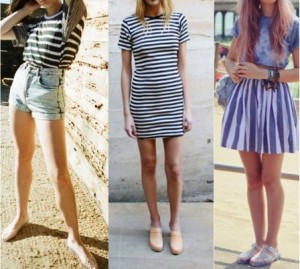 5. Lastly but most important are the  Footwear , take your pick from the range of  footwear available which are  made of Rain Appropriate Material select from the basic thong sandals to moccasins to gum boots to Jelly Sandals in variety of colours….my favourite golden pair doesn't even look like its made of plastic…really!!!…..team up with your stylish   garments … look Stylish in them and get away with your Fashion Fantasies, coz its rainy season….yay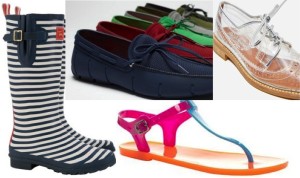 …make rains your excuse to experiment with different Materials,  Colours and Accessories.…enjoy the romanticism that the weather brings along….be stylish….afterall every season brings with it reasons to dress up…Just Indulge…and in case you have any style queries you know you can write me at stylecoachaianaj@gmail.com….ciao…